I-CAR Gold Class Certification
I-CAR GOLD CERTIFIED SHOP
The Gold Class recognition is the highest role-relevant training achievement by the collision repair industry. Brown's Body Shop is proudly part of the 20% of repair shops that currently meet the rigorous Gold Class standard. Here's more on this prestigious automotive certification: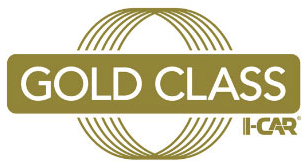 Trusted Collision Repair Since 1960
Why I-CAR Gold Certification Matters
The I-CAR Gold Certification is an important industry certification for many reasons. With the certification exam being difficult, achieving this certification is not an easy task. This certification ensures that a shop understands the newest technologies in the industry that are required to perform quality work on the latest models of vehicles.
The Certification Process
In order to achieve this certification, one must pass a thorough exam. Because of this, only 1 in 5 shops meet the required standards to call themselves I-CAR Gold certified. Even after obtaining the I-CAR Gold level status, the shop must continue to progress in the program in order to maintain their status.
"Our van looks great! Can't tell it was ever damaged! Plus they cleaned out the inside and washed up my floor mats! That was going above and beyond and was a pleasant surprise!"
"Everyone at Brown's was very professional and were very upfront about what needed to be done with my vehicle. They made the whole experience very easy. I highly recommend them for any vehicle repair."
"The entire process was painless. I was updated continually and when I was due to pick it up it was out front waiting for me. Excellent customer service!"